The RUDOLF STEINER LIBRARY is now open for Curbside and Mailing services!
Hello everyone,
The Rudolf Steiner Library reopened on June 17th after a thorough cleaning/sanitization, and with a six-page Safety Plan in place, as required by the NYS Department of Health. We are open through the month of July for only curbside and mailing services, pending further notice from NY State, and in keeping with the Capital District Library Council guidelines.
Our Book Drop Boxes have been reopened at the RSLibrary and the HVFStore locations (please enclose materials in plastic to avoid errant trash in boxes). At this time, due to the pandemic and subsequent shutdown, there are currently over 800 overdue books out there. Please return any past due materials at your earliest convenience. There are no overdue fines at the RSLibrary. However, donations are gratefully accepted!
Please feel free to place your book orders through Reserve, Bibliography, Email or Phone.
For local patrons using Curbside service (available during our regular hours of Wednesday through Saturday, 10AM to 3PM), the RSCFoundation requests that the following protocol is followed:
Call in advance (518) 944-7007 to request materials
Loan materials will be packaged and placed on a cart in the vestibule outside the library at a pick-up time agreed upon with the RSL staff
Use face coverings and hand sanitizer/hand-washing prior to entering the building
Maintain 6-foot physical distancing as necessary
Entry to the library is prohibited
With these simple protocols, we hope to safely make the rich RSL collection available to you all.
We appreciate your participation and cooperation during our gradual reopening.
We wish that you all stay well !
The Board of the Rudolf Steiner Cultural Foundation
---
Welcome, the library is here to serve you!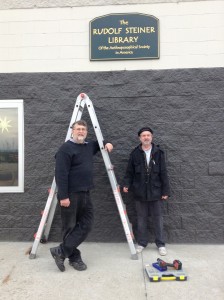 The Rudolf Steiner Library is the research, archival, lending, and mail-order library of the Rudolf Steiner Cultural Foundation. It is a unique resource for the on-going conversation about humanity's future. (Read about the transfer of ownership and operations of the Library here.)
For borrowing, returning, or renewing you may contact the staff at 518-944-7007, or by email.
To visit or mail, our address is:
Rudolf Steiner Library
351 Fairview Ave Ste 610
Hudson NY 12534-1259 USA
Library Hours
Visit us in Hudson, NY.
Our regular hours are 10am-3pm, Wednesday through Saturday.
Check our Facebook page for closings due to weather or holidays.
Library Catalog
Search the collection online
To search for books available for lending, you can search the library catalog online.
Borrowing Periods
Borrow locally or by mail
Library materials are loaned for three months by mail, and for two months for local borrowers. Registered users of the library may participate in renewal of materials for up to five renewals after the initial loan unless the item is on hold for another library patron.
Maximum borrowing periods for local and mail borrowers is one calendar year.
Books borrowed for study groups are lent for six months at a time, and renewable for additional six month periods unless the item is on hold for another library patron.
PayPal option for Postage
You may still reimburse the library for postage costs by mailing us a check or stamps, but if you have a PayPal account, you can now pay the library for postage by directing your PayPal payment to rsteinerlibrary@gmail.com
About the Collection
Rare breadth and depth
We encourage you to explore—
over 27,000 volumes:
all available Steiner titles in both English and German
hundreds of unpublished manuscripts of Steiner essays and lectures in English
extensive commentary on Steiner's life and work
Works by other anthroposophical authors, classic and contemporary, in both English and German.
Waldorf education: curriculum, child development, and other topics of particular interest to teachers and parents.
Books across the full spectrum of Western spirituality. select volumes on Eastern and other spiritual traditions.
Plus CDs, DVDs, online resources.
to suport the Rudolf Steiner Library
Your gifts directly support the operations of the library,
the care, repair and growth of the colllection,
and increased access and significance into the future.
They are in addition to funds provided through
the operating budget of the Anthroposophical Society.
Donate online.